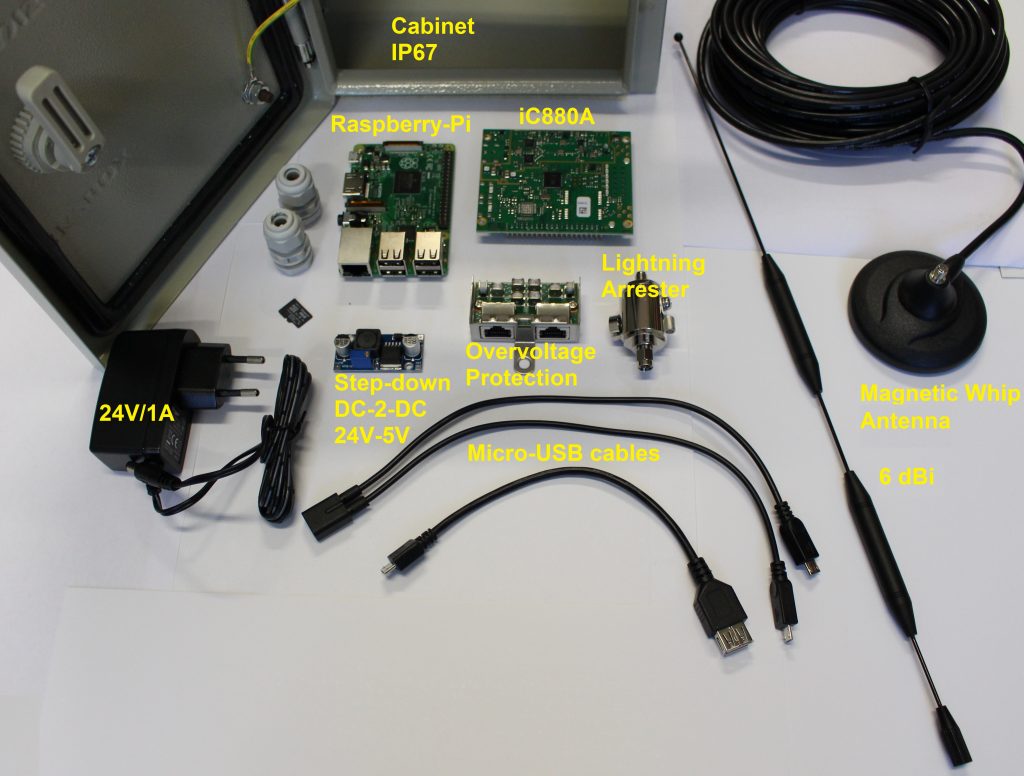 For the LoRa@VSB gateway we use following components: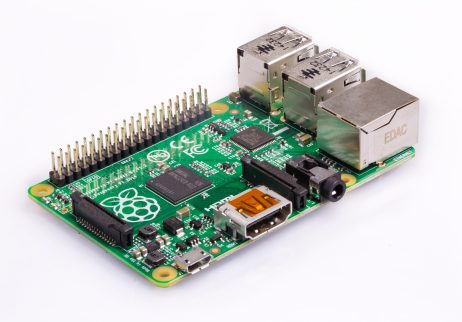 We use the Raspberry Pi 2 Model B as we mainly use only the cable Ethernet connection. The Raspberry Pi is maximally compatible with iC880 Concentrator.
We plan in the second generation use the industrial version – Raspberry Pi Compute Module. The main advantage of Raspberry Pi CM (the BCM2835 processor and 512Mbyte of RAM) is a 4Gbyte eMMC Flash device (which is the equivalent of the SD card in the Pi).

iC880A – LoRaWAN® Concentrator 868MHz
iC880A is able to receive packets of different end devices send with different spreading factors on up to 8 channels in parallel. Due to the fact that the combination of spreading factors and signal bandwidths results in different data rates the use of "Dynamic Data-Rate Adaption® becomes possible. That means that LoRa® nodes with high distances from the concentrator must use higher spreading factors and therefore have a lower data rate. LoRa® nodes which are closer to the concentrator can use lower spreading factors and therefore can increase their data rate. This allows to build easy to handle star or multiple star networks without the need of routers or repeaters. In combination with an embedded Linux board like Raspberry Pi and the HAL software from https://github.com/Lora-net a complete LoRaWAN® gateway can be setup easily
Waterproof cabinet SKYBOX MB2520D140 with IP65

– simple full door cabinet with dimmension 200 x 250 x 140 mm
– the symmetrical construction allows simply turning the cabinet changing the door hinge from the right or left
– powder coating RAL 7034
– the cabinet has simple lock, if needed the FAB lock can be ordered (Part No. SEZMB-FAB-KEY)
– Degree of protection: IP65
12 or 24V/1A DC adapter

Our gateway is defended by passive POE system. We use 230V  to 12 V/1 A or 24 V/1 A source adapter.
DC-2-DC Step-Down converter

– LM2596 DC-DC
– Input voltage: 3 V ~ 53 V
– Output voltage: 5 V ~ 35 V
– Output current: 3 A (max)
– Transform efficiency: 92 % (highest)
Ubiquiti OwerVoltage protection

Overvoltage protection will guarantee the operation of the connected device even at overvoltage of 100 V for 1 s or 1 kV / 1us discharge if the ground is properly grounded. Overvoltage protection supports PoE up to 50 V. Suitable use for 10/100/1000 Mbps networks.
Lightning Arrester

SMA(m)-SMA(f)
U.FL(f)-SMA(f)panel. LP-088. 10cm



Collinear vertical antennas

A10-868

| | |
| --- | --- |
| Model | A10-868 |
| Operating frequency band, MHz | 864-876 |
| Gain,dBi | 10 |
| VSWR, not more than | 1.3 |
| Polarization | vertical |
| Max. power input, W | 50 |
| H-plane beamwidth | 360В° |
| E-plane beamwidth | 15В° |
| Impedance, Ohm | 50 |

Mechanical specifications:

| | |
| --- | --- |
| Model | A10-868 |
| Length, mm | 1570 |
| Weight, kg | 0.75 |
| Rated wind velocity, m/s | 40 |
| Diameter of radome, mm | 30 |
| Radome | white fiberglass |
| Mounting | On a mast 25-55 mm |
| Connector | N-female |
An antenna holder (1 000 mm

)
The final state: